For a round up of the latest Halloween events in Yorkshire for 2023 (or more specifically within an hour of Skipton) then look no further!
Halloween and October half term events are being advertised earlier with lots already selling out. Here though you will find a mix of some of those large scale events that we recommend but more importantly the smaller local events that need your support.
Halloween doesn't need to be expensive though. Don't forget there are also gorgeous autumn walks, pumpkin crafts and plenty of dressing up and decorating that cost very little when you get a little bit thrifty.
Make those amazing memories at these Halloween events in Yorkshire this year!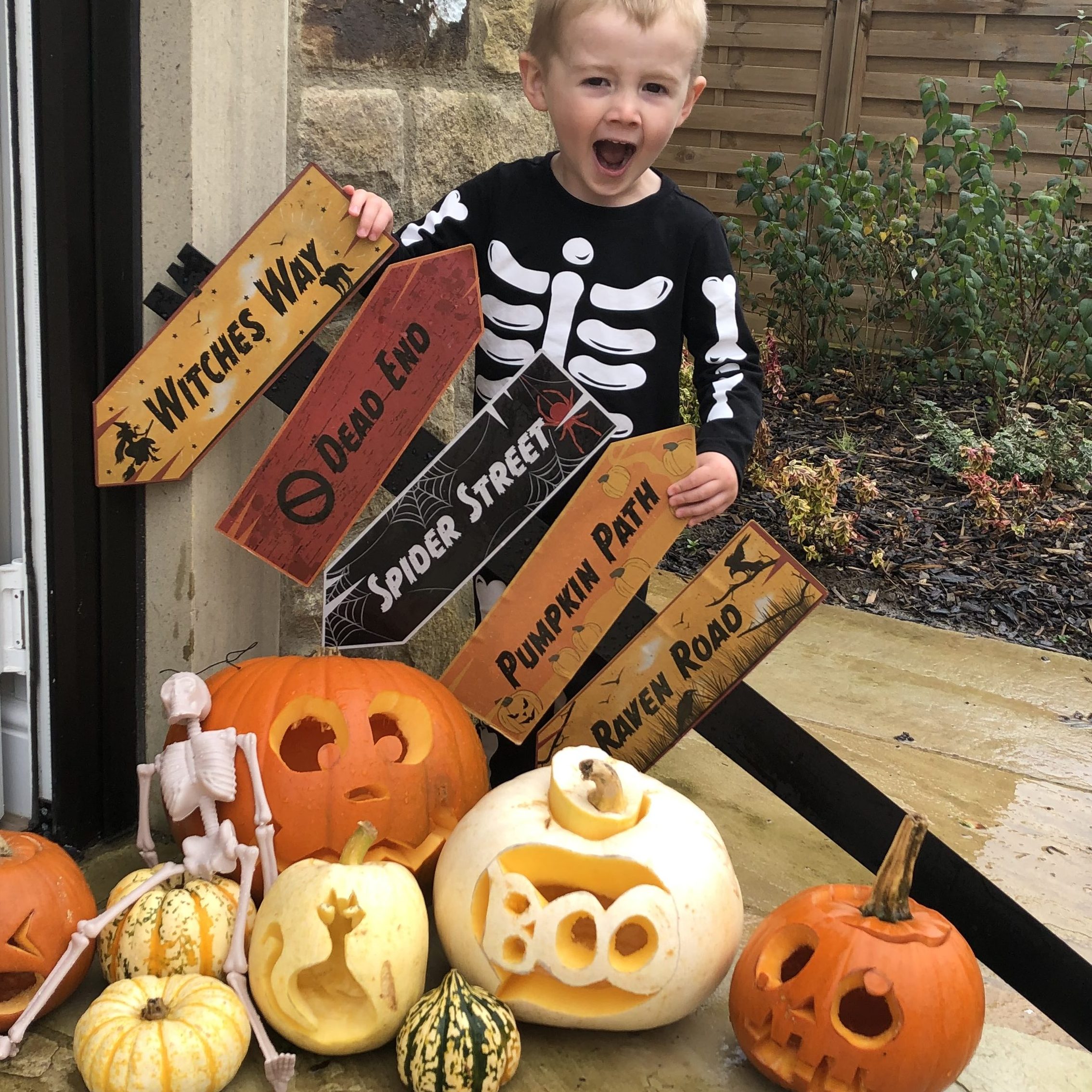 Also, if Halloween is not your thing then there are still lots of events happening this October. Scroll down to the bottom to find out more or head over to our 'Days Out' pages to get some inspiration.
Halloween events in Yorkshire 2023
Low cost events
Birchfield Farm Pumpkin Festival
Back again this year the Birchfield Pumpkin Festival is our favourite pumpkin patch. It is opening from 23rd September daily through to 31st October. There is no requirement to book, however check social media the weekends around half term as this may change. The pumpkin patch is bigger and better than ever with lots of photo opportunities. It is free to enter, you only pay for the pumpkins you pick.
Brichfield is a family run working farm located between Harrogate and Pateley Bridge (postcode is HG3 4JS). If you did want to visit the farm attraction then this is well worth it. With animals, go karts, bouncy castles, a construction zone, playground, woodland activities and outdoor games you can spend a full day there. They make and serve their own ice cream too in the cafe & parlour, which is a must try.
Hesketh Farm
Hesketh Farm, Bolton Abbey is celebrating Halloween over half term from Saturday 28th October. After that the farm will close for the Winter months. You do not need to pre-book tickets, you can just turn up.
Expect a Halloween grotto, pumpkin carving (pumpkin provided), a witch hunt and decorations galore. This is all included with the general admission so you will be able to play at the farm, indoor and outdoor, as well as see all the animals. Hesketh again is a great day out – read our full review here of a day at the farm.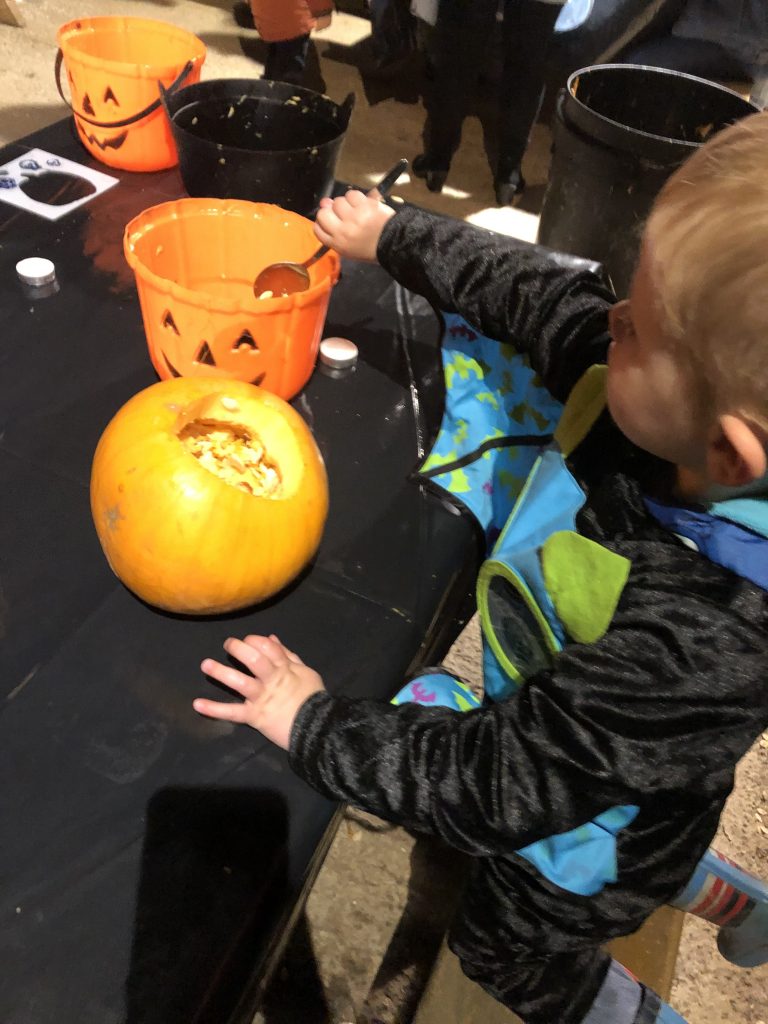 Bolton Abbey Pumpkin Trail
Now this is a halloween events in Yorkshire that everyone has heard of. Back again for another year, this Halloween trail runs throughout both half term weeks (have you noticed that the holidays are out of sync in Yorkshire this year?!). It starts on Saturday 21st October at The Cavendish / Riverside and goes up through Strid Wood along a pram friendly route. Pre-booking is essential – booking is per car. Follow the pumpkins to find the clues that are hidden in mystery boxes. These will help you to solve the puzzle.
If you are feeling very energetic you can also tag on the Welly Walk from the Priory as this is open until the end of October.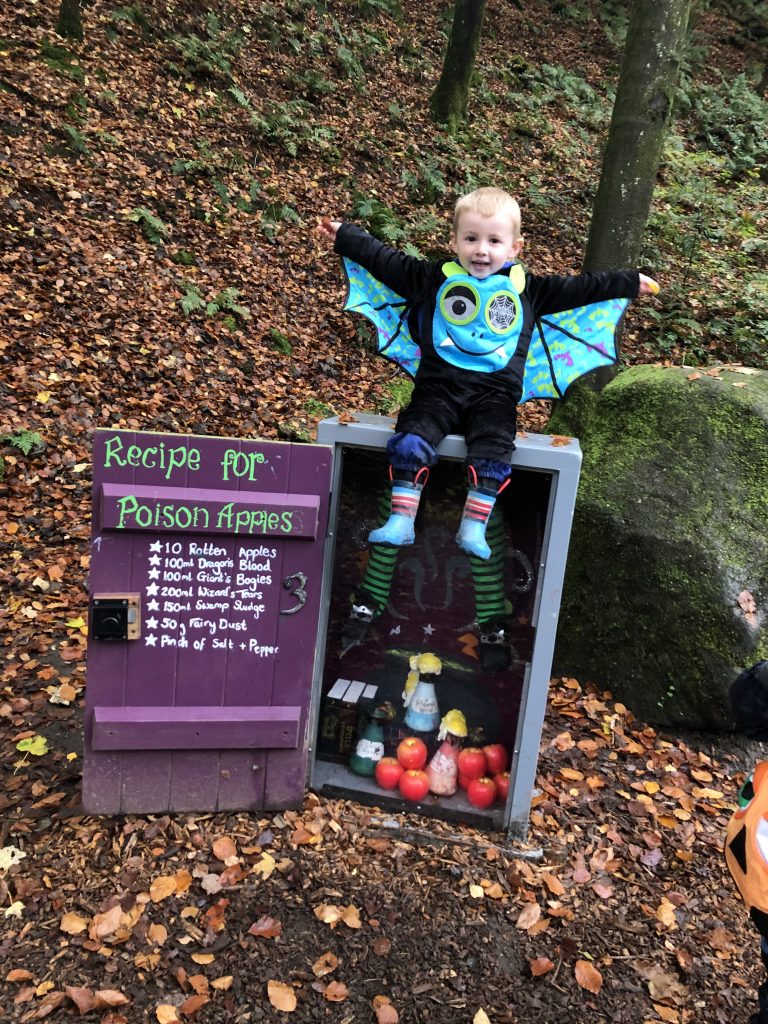 Billy Bob's Fall & Halloween Festival
Every year Billy Bob's, near Bolton Abbey go all out on their Fall decor in true USA Pumpkin Patch style with cute photo op's aplenty. You will find a Candy Scramble, Carnival Games, visits with Hilda the Friendly Witch in her Crooked Hovel, get spooked in the Haunted Trail and take home a pumpkin to carve. There will be spooky treats available to eat too in the Diner. Booking is a necessity since they fill up fast. Decorations will be up from the 30th September. With events on every weekend and then daily through the half term holiday. Play in the barns is limited to 1 hour and for diners only (at weekends and holidays) at £3 per child.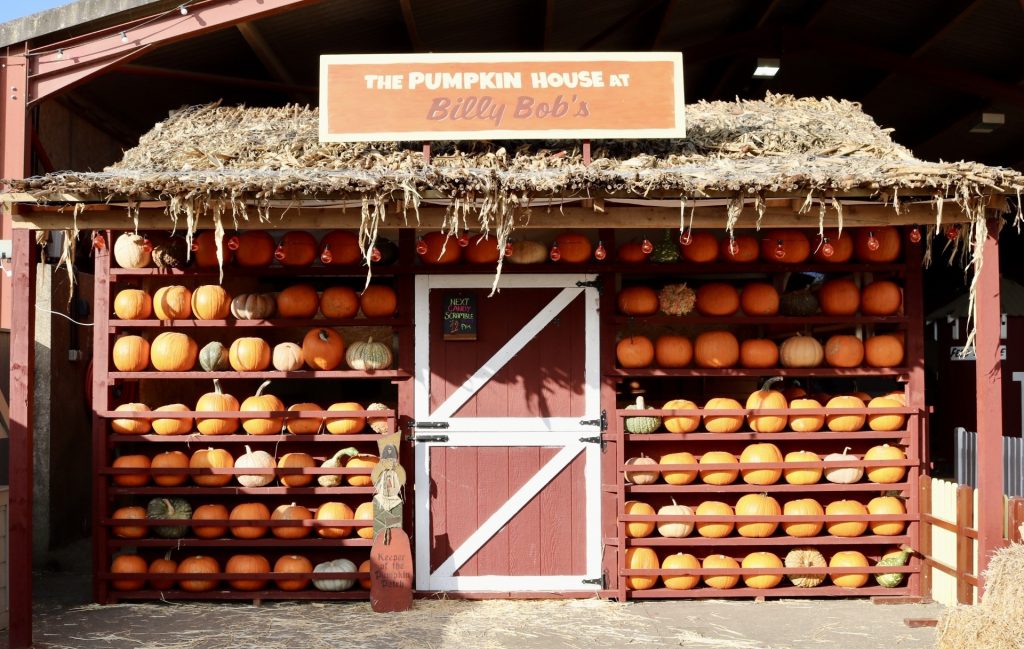 Mrs Dowson's Pumpkin Patch
Mrs Dowson's Ice Cream Farm is near Clitheroe, Lancashire. We have attended the last few years and it is brilliant!
The PYO pumpkin patch has actors dressed up to entertain you on your way round. My little man loved this and really got in to the spirit of things. The pumpkin patch is a mix of natural and placed ones, the pumpkins are really good quality and were the ones that lasted past Halloween. Entry also gives you access to all the fun of the farm including the new indoor natural play area. You do need to pre-book tickets. It will be open weekends from the 7th October then daily through half term. They even do adult only pumpkin picking evenings!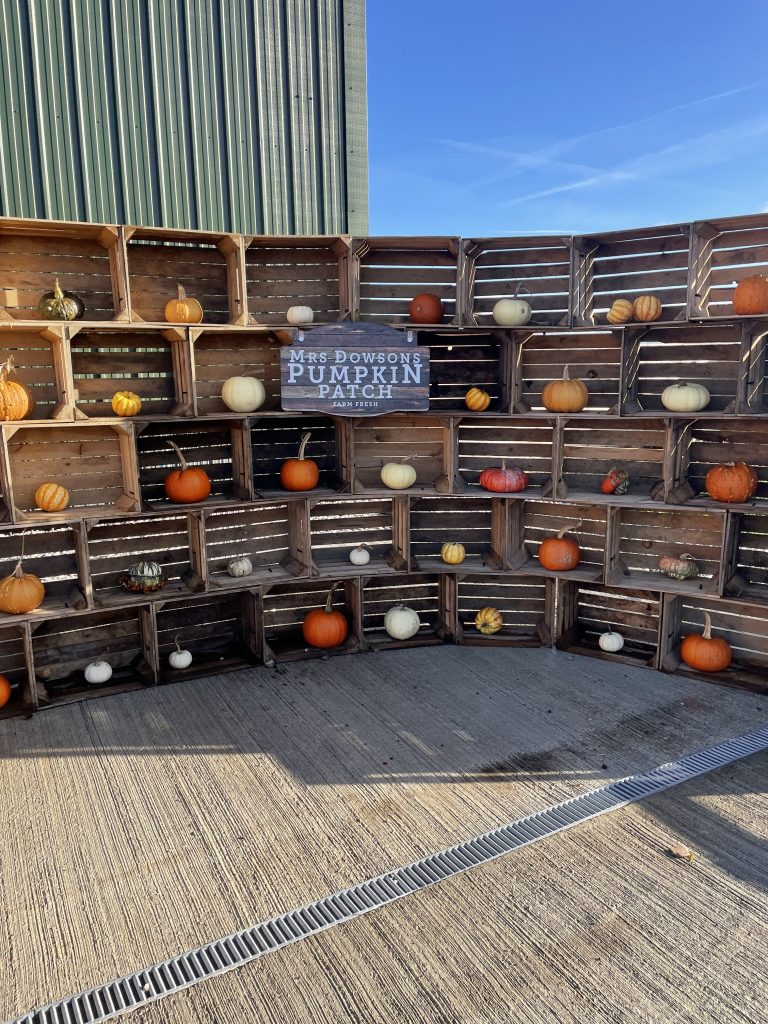 Spilmans Pumpkin Festival
Spilmans Pumpkin Patch, near Thirsk is huge! There are also other attractions such as a small fairground, corn cannon, pumpkin slingshot, tractor ride, bale mountain, a pumpkin carving area and a spooky walk. New for this year is the musical theatre show 'The Last Pumpkin'. These are a mix of payed for and free activities to enjoy.
The pumpkin festival runs every weekend from 30th September then daily from 24th to 31st October. You do need to pre-book tickets however, entry does include a £5 voucher to spend.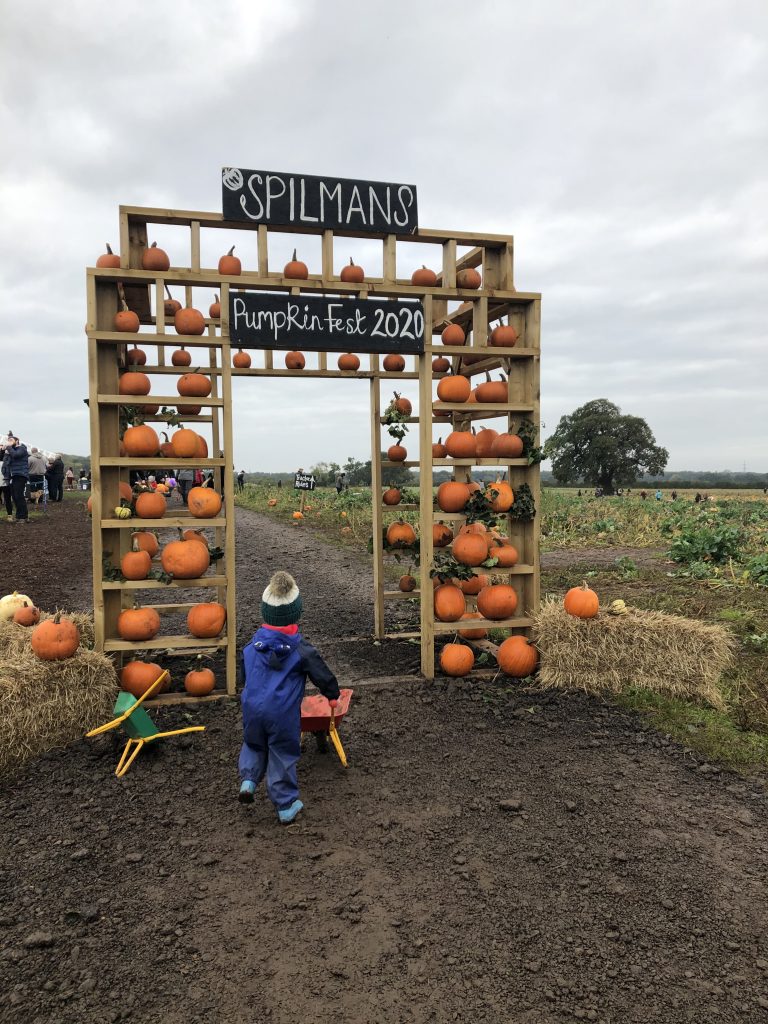 Horsforth PYO
Pumpkin picking tickets for Horsforth PYO farm are now available. From the 30th September they are open on selected dates and then daily from 18th October to get your pumpkins.
There are over 18 different varieties of pumpkins this year, giving you plenty of choice whether you wish white, blue, orange, green, warty big or small one.
On peak days a tractor ride will take you to and from the picking fields. There will also be face painting, a small children's play area, takeaway cafe and plenty of photo opportunites.
Skipton Town Hall – Family Fun
Such an exciting mix of events happening at Skipton Town Hall throughout this October. From Halloween performances to free art clubs there is something for everyone.
The week starts with Art Club on Monday 30th October for age 8+ with a morning and an afternoon session.
Wednesday hosts 2 (morning and afternoon) FREE Bonfire Make and Take sessions which are drop in events.
Friday 3rd has a delightful new show full of sparkle and song for ages 4+ called 'The Lightbulb Princess'. Can you help a very unusual princess solve an unexpected problem? Without the twinkle of fairy lights, the holiday season could be cancelled! It's up to our intrepid explorer, her pals and YOU to illuminate the world again. Tutti Frutti Productions have teamed up with One Tenth Human (Curious Investigators) to create a fun-filled, sparkling extravaganza exploring the sensational science behind electricity. Featuring catchy original songs from Ziad Jabero and electrifying storytelling, The Lightbulb Princess will light up children's imaginations and inspire them to learn more about the world around them.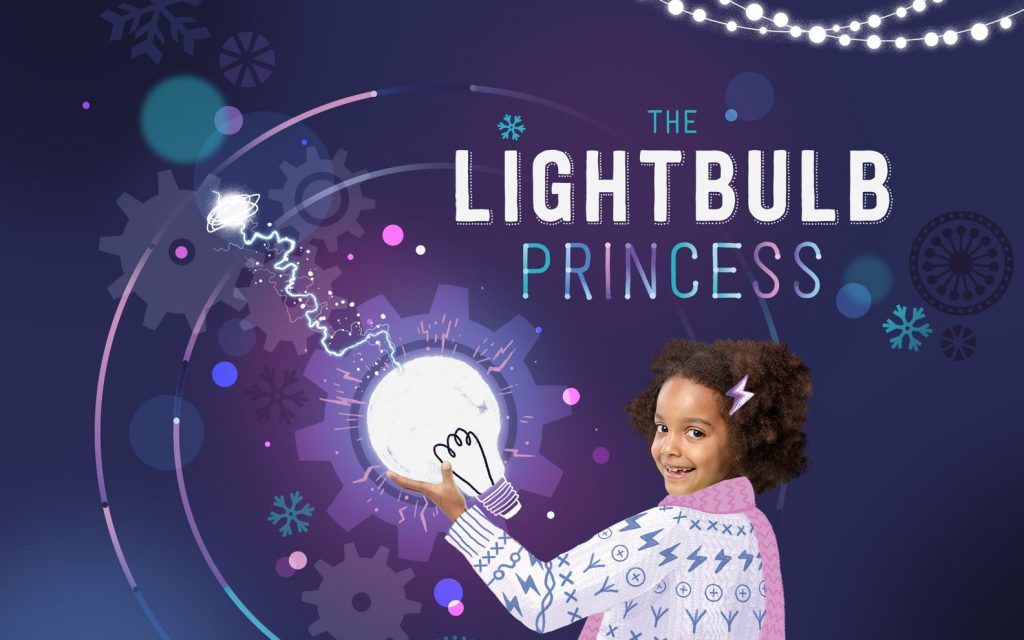 On Saturday 4th there is 'JACK!' By Little Seed Music which is a new and exciting musical for families
Have you heard about Jack?
Come on, tell us a tale,
When you need a good story,
Jack never fails!
For as long as tales have been told, the character of Jack has been a constant presence in stories. Sometimes clever and cunning, sometimes lazy and foolish, but always coming out on top, fairy tales, folklore and nursery rhymes are full of tales of a lad named Jack. Now, in this new musical for families and children, discover the truth behind the original fairytale hero. Join Jack in his many guises as he seeks his fortune, finds the love of his life and, of course, takes on the fearsome giant. JACK! features traditional stories, original songs and storytelling. With lots of opportunities to join in, plus brilliant live music, families will be singing along before youcan say Fee Fie Fo Fum! There are 2 performances throughout the day.
All the performances will require pre-booking through their website.
Stump Cross Caverns – The Cavern of Lost Souls
The main Halloween event this year at Stump Cross Caverns is an interactive theatre experience of 'The Cavern of Lost Souls' suitable for ages 14+ showing on Friday 27th and Saturday 28th October at 530pm. The story is based on the failed rescue mission 200 years ago to locate 6 lost miners in the collapsed caverns, and again 100 years later when history repeated itself and the caverns collapsed again. This October they are seeking another rescue team brave enough to go into the Caverns and release the dead miner's souls.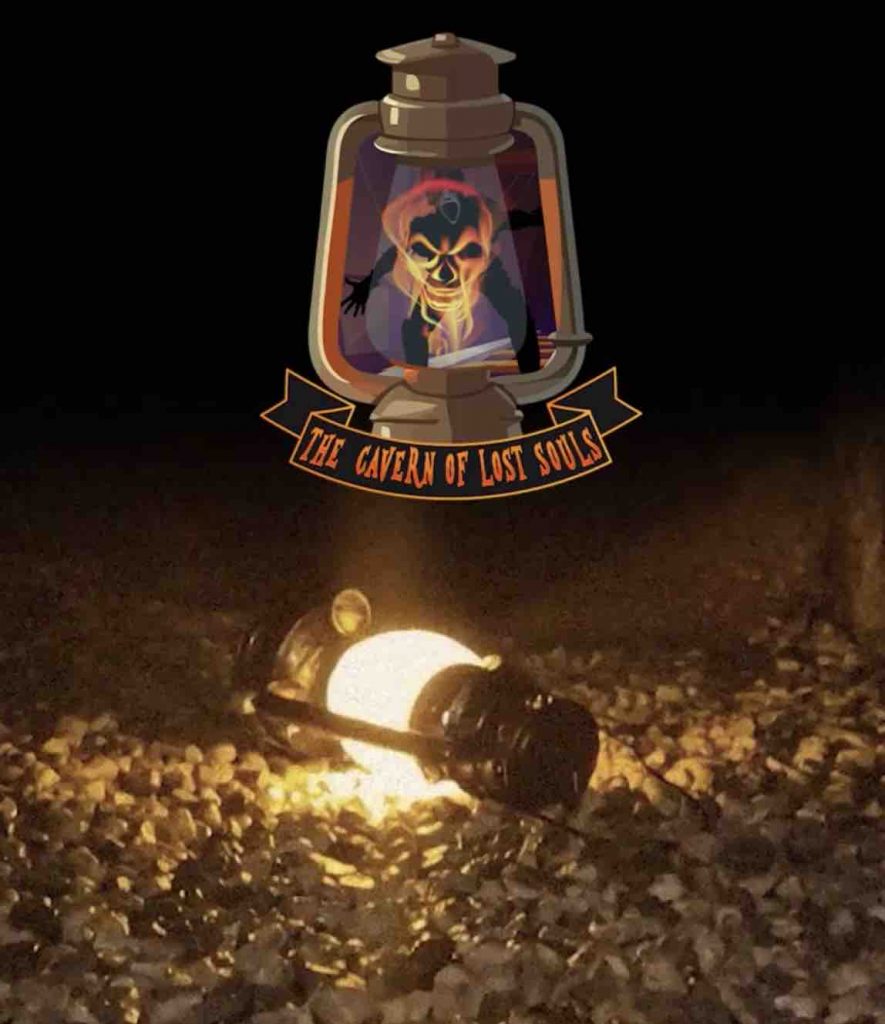 There will also be a kids spooky Halloween trail every day during the holidays and a Spooky Fossil Dig.
Spooky Skeletons Trail at Lotherton
From 27th October, daily through half term, the Spooky Skeletons Trail is on at Lotherton. Follow the spooky skeletons around the estate and into the haunted house! Dress up and prepare to be scared as you explore the woods and seek out all of the skeletons who have made Lotherton their home.
Included in general admission to Lotherton is the wildlife area where you can see the bats in action!
The playgrounds are also fab so you can easily make a day of it.
Leeds Scare Trails Pumpkin Trail
This FREE Pumpkin Trail is a family friendly trail through the woods of Golden Acre Park during the day on Saturday 28th and Sunday 29th October.
Follow a trail of over 200 pumpkins to find loads of fun games and activities, with prizes to be won as well. This is a FREE event, though there will be some paid for activities as well as donation buckets fundraising for SANDS (Stillbirth and Neonatal Death charity).
There is also a not so friendly trail – Frightmare Trail on from 6pm on the Saturday. This is £10 per ticket.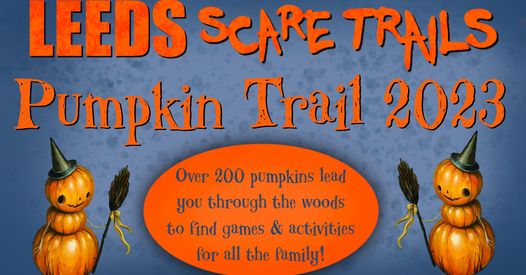 Halloween events in Yorkshire that are more of a treat day out
Fright Water Valley Half Term at Lightwater Valley
This October half term enjoy a frightening event at this amazing theme park for kids. For the full review of a day out click here.
Daily throughout half term there will be all the usual rides available as well as friendly frights plus mini and mega scares for the whole family to enjoy! You do need to pre-book tickets and if you book to go before half term you can visit again for free during!
Thorp Perrow Halloween Trail
Thorp Perrow Arboretum, near Bedale has its Halloween trail on daily, from 7th October through to 5th November. The trail is through a section of the grounds which includes scary stations along the way and clues to find. Put on your cloak, grab your broomstick and head out into the Arboretum in search of spooky creatures. You'll stumble across tombs and skeletons and many more Halloween frights. The trail is included in general ticket price or you can purchase the trail map for £2.50 to complete the mission and get a free gift.
Thorp Perrow is a great day out regardless and you must explore the gardens further to discover the playground and the birds of prey centre too. You can read our full review here to see what else there is on offer.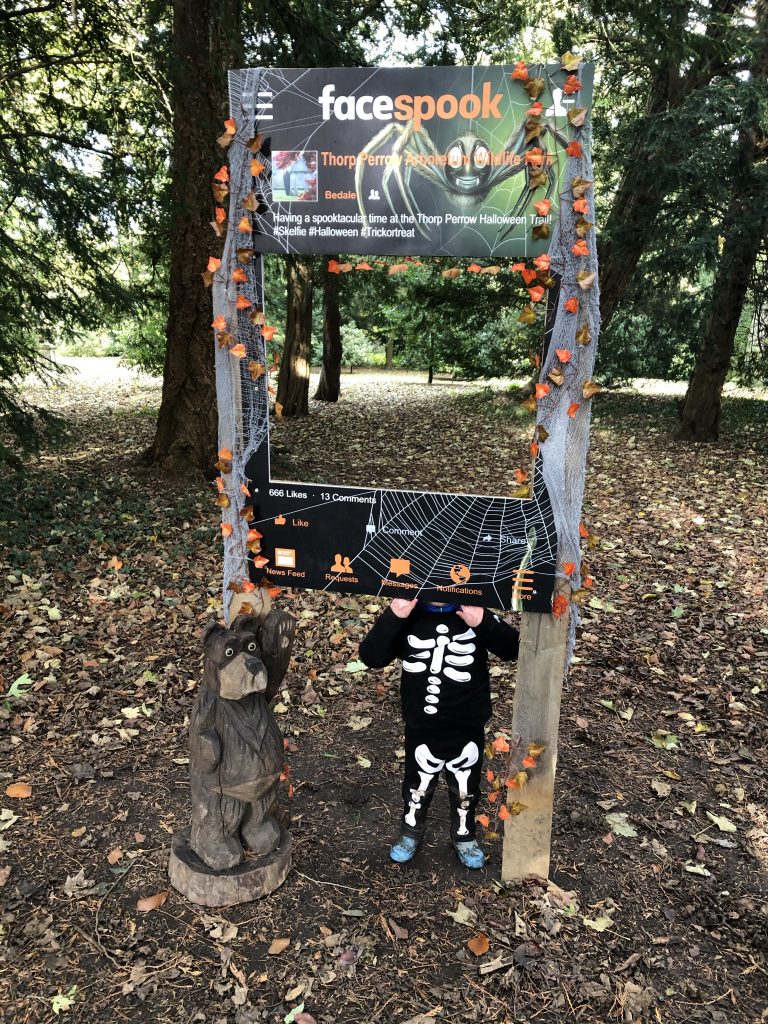 Thornton Hall Farm Spooks
Thornton Hall Farm are again putting on a mega event.
The (mud free) Pumpkin Patch is open daily from 7th October until 20th October and then again on the 30th and 31st October. Pumpkins are additional charge on top of Farm & softplay entry. On 19th and 20th October there will also be a dedicated Toddler Halloween Party including party games.
From Saturday 21st SPOOKS! returns for some creepy goings on through half term. A spook-tacular jam packed family day out. Including a Live Show 'Join the Coven' where Amaris and Hestia witches will be trying to recruit you to join them. There will be interactive activities on Trick or Treat Street and on the Halloween Hunt. Join the mischievous madness across the farm. Tickets must be pre-booked online for every event and also include full day entry to the farm park.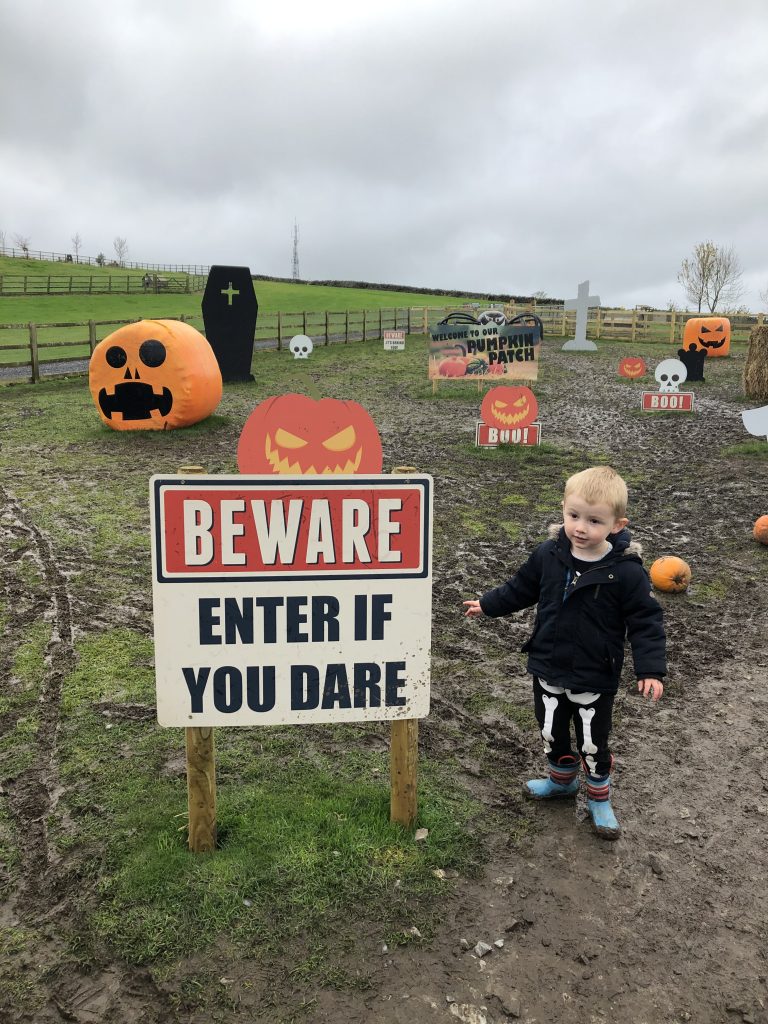 Stockeld Park Halloween Adventure
Stockeld Park comes alive for the Autumn Half Term so join them for a spooky adventure.
Truly the ultimate Halloween day out, Stockeld Park boasts a wide range of terrifying activities for all ages in this year's Halloween adventure!
Explore the Enchanted Forest and encounter the Woodland Witches or test your adventurous spirit in the mummy maze. With so many fun activities on offer, don't forget to visit the pumpkin patch and select your perfect pumpkin. Remember to dress up in your spookiest attire as the best dressed will win a prize.
The park will be open the weekend of 21st and 22nd October then daily from Saturday 28th October. Make sure you visit the Playhive too. You will need to pre-book tickets.
In addition you can book the family friendly Zombie laser experience and the Halloween Street show. So many Halloween events in Yorkshire all rolled into one.
Mother Shipton's Creepy Carnival Trail
Mother Shipton's Cave Creepy Carnival trail is the ultimate destination for those seeking the spookiest family-friendly Halloween experience. Prepare to be bewitched, amazed, and thoroughly entertained in equal measure. Running from Saturday 28th October to Sunday 5th November.
Explore abandoned circus tents as they whisper ghostly secrets from their forgotten past and meet a host of creepy characters who are waiting to steal the show in the festival of frights.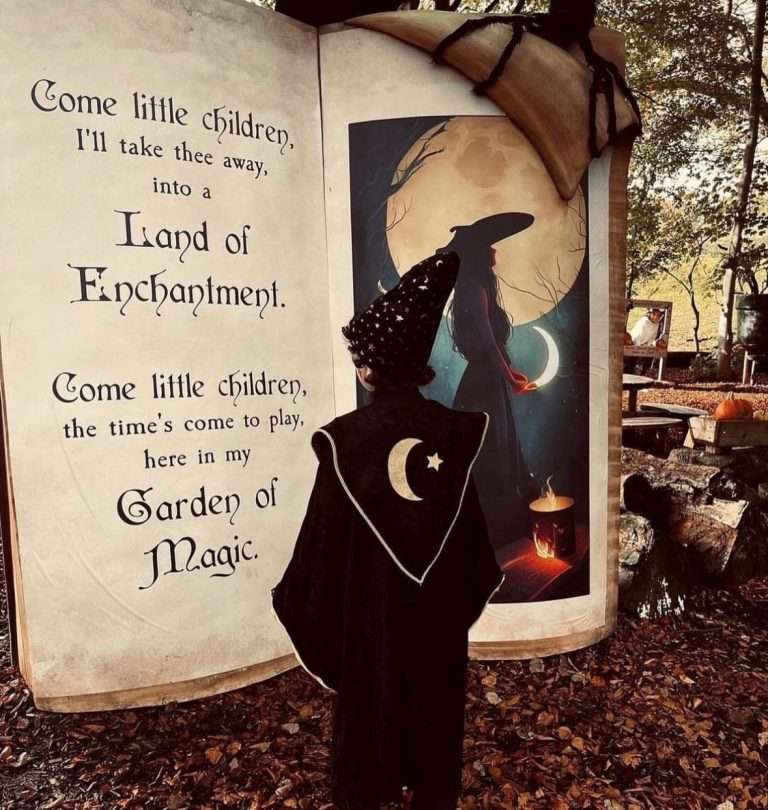 Alternative Halloween events in Yorkshire this October
Fountains Abbey by Floodlight
This Autumn the Fountains Abbey by Floodlight event is on every Saturday in October plus Friday 27th October, Friday 3rd November and Saturday 4th November. You do need to pre-book tickets in advance – they are on sale now.
Watch as the night sky falls over the Abbey and ruins start to glow with light. Don't forget your torch so you can chase your shadows around the ruins. Between 7pm-8pm listen to the choir singing in the cellarium.
Seeing the Abbey all lit up is quite surreal and very very different to the daytime. Fountains Abbey is a wonderful place to explore – read my full post here.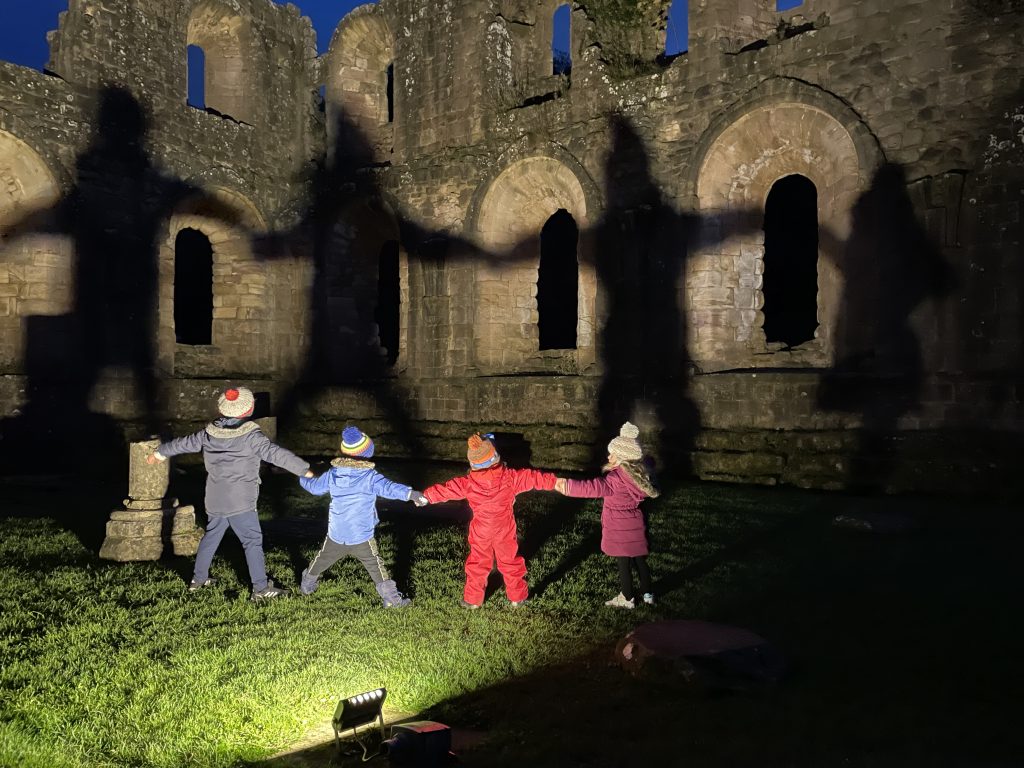 Leeds Light Night
In the evening of 12th and 13th October, Leeds City centre will be all lit up in a masterpiece of light shows, projections and art work. The Light Night event is free with installations all over the city so you can enjoy it by just wondering round taking it all in.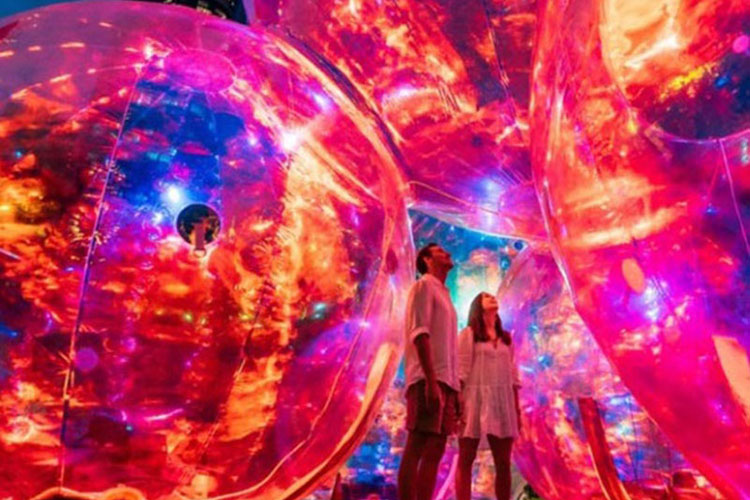 Lister Park Lantern Parade
This year the Cecil Green Arts Lister's lantern parade is back in the beautiful Lister Park on Friday 27th October from 6pm. They will wind their way through the park starting outside Cartwright Hall and ending with a fire finale by the bandstand. The parade will be accompanied by 4 bands (Peace Artistes, Jamba Samba, Dales Jam and Banda na Rua).
There will be open lantern making workshops (for children age 8+) running from September 18th on Monday and Tuesday evenings from 6.30pm to 8.30pm for anyone to make a lantern before the parade.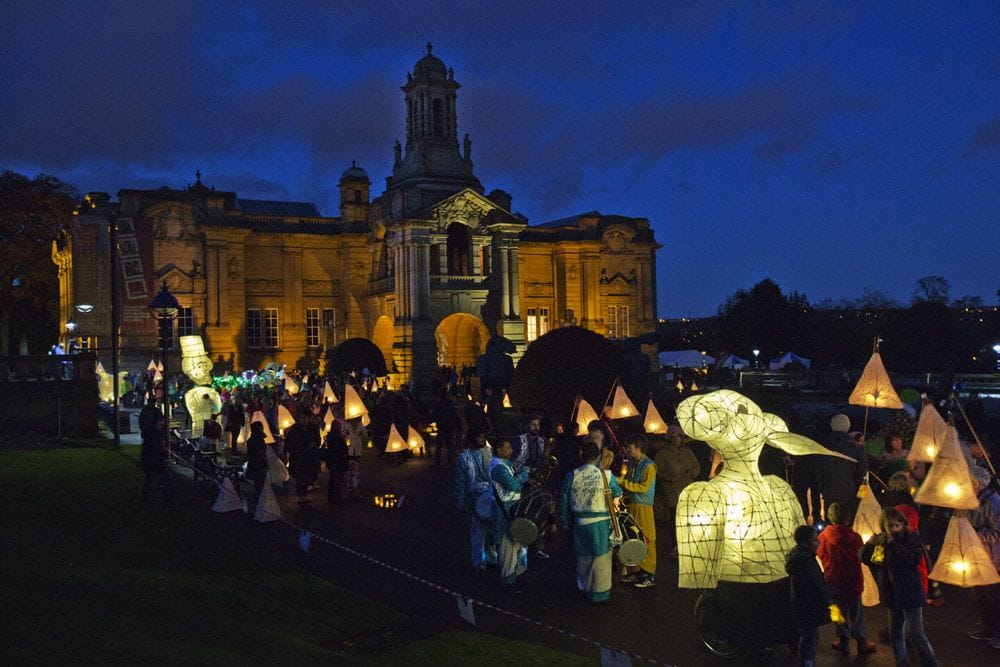 Check back as more Halloween events in Yorkshire will be added over the next few weeks. Know about an event that I haven't mentioned? Let me know!
If you enjoyed reading this post then follow our adventures on Facebook, Instagram and Twitter.